Love GLU?
Join our #GLUGirI Group
Ambassador Program
If you think you're one of us—you definitely are!
We're looking girls like you who love our products,
and want to spread the word.

Want in?
Apply Now
You Might Be a #GLUGirl if...
You know who you are... but are still kind of figuring things out.
You could spend a whole weekend in your room, listening to music, reading, and scrolling Tik Tok.
You aren't intimidated by growing up—you've totally got this!
You love to keep it real and are down to talk about anything and everything.
You aren't afraid to think big, dream bigger, and do amazing things.
Sound Like You?
We knew it, you're totally one of us.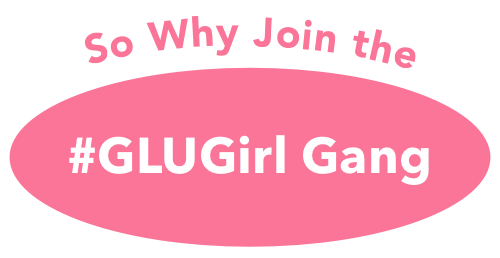 Make New Friends
Connect with like-minded girls
like you, all around the world.
Earn Free Stuff
Think: GLU products and gift cards to
your fave places. Starbucks, anyone?
Develop Stand-Out Skills
Grow your personal brand,
platform and network to set yourself
up for success
Wish there was a place to find out what really happens when you get your period, how to shave your legs without cutting yourself 12 times, and other uncomfy topics?
Let's Do This
You'll be part of an exclusive group making it happen. Use your unique skills (like blogging, TikTok videos, photography and more) to create content that will be featured on our platforms to help girls like you figure this whole growing up thing out.
Apply Now